"Year-round Aseptic Large Scale Sericulture Plant" by Atsumaru Yamaga Silk Co., Ltd.
Information on opening ceremony and introduction of plant
Groundbreaking ceremony: Wednesday, 27th July 11: 00 ~
Attendees
Agricultural production corporation Atsumaru Yamaga Silk co.,ltd President Mr.Toshiro Shimada
Mr. Ikuo Kabashima Governor of Kumamoto Prefecture
Mr. Kensei Nakashima mayor of Yamaga Kumamoto prefecture etc


 Despite making a major contribution to the development of modern Japan, the scale of the silk industry has now decreased to one hundredth of what it used to be. On the other hand, silk has attracted attention not only in clothing but also in food and medical fields, making full use of the properties of highly pure proteins, and world demand for silk is still growing. In "Yamaga City Branding Project Using New Sericulture Industry", utilizing Japan's proud silk research and technology cultivated over many years, we will newly develop sericulture and silk industry in Yamaga City, Kumamoto Prefecture, By working in cooperation with the sericulture industry, we aim to build a new Japanese silk industry proud of the world.
 At the same time, we hope to improve the vitality of the city economy and increase the inflow of people by making the possible industries successful.
 This time, we decided to start construction of the most important equipment "Year Anniversary Sterilized Large Scale Sericulture Plant" in the business development of Yamaga Silk, which is related to the city, and it was decided to hold the groundbreaking ceremony, so this guide and newly We will introduce the plant that is going to rise.
   We would like to take this opportunity for your interest in large-scale efforts to explore new silk industry, which is quite difficult in rural areas, so we can interview and introduce it.
Announcing Year-round Aseptic Large Scale Sericulture Plant Ceremony Information
Date:July 27, 2016 Wednesday 11 o'clock - (about 1 hour)

Organizer: Taisei Corporation

Owner:Atsumaru Yamaga Silk co.,ltd

Place:4041 imou, Kahoku-Cho, Yamaga City, Kumamoto ※Former Hiromi elementary school site (ground)

内容:
1. Shinto ritual(11:30~)
2. Feast(12:30~)
Application:Please send your name, affiliation, number of participants and contact information to the address below.
yuuta@atsumaru.jp or
hideaki.kawai@ifs.co.jp
※As there are limited numbers of seats, please apply in advance as much as possible.
※Since it is limited to the direction of the press, please understand that general participation has been declined.
Introduction of Year-round Aseptic Large Scale Sericulture Plant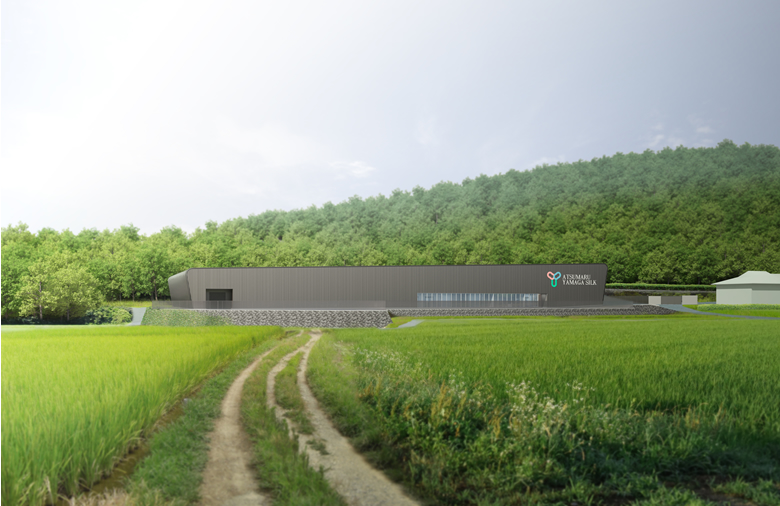 Construction place:Former Hiromi Elementary School site (Imou, Kahoku Town)
Completion:March 31st, 2017日
Site area:13,732㎡
Total floor space:4,174㎡(1,260 tsubo)/single-storied building)
Total cost:Approximately 2.3 billion yen
Planned annual productivity:100 tons within 5 years
Construction overview:
The exterior is R-shaped in the image of a cocoon, and an oxidized coloring to give a welcome feel that blends into the green mountain sights of Yamaga City. The interior has a 10,000-class clean level, with an environment enabling stable production of high quality cocoons, including thorough temperature/humidity control. To maintain the clean level, the production room must be an insular space, therefore, a separate break room with an open view of outdoors sites has been planned for a better working environment for the workers.

Main facilities:
1. Mulberry leaves control facility: For ideal storage, Mulberry leaves will be washed, dried, branches separated, vacuum dried.
2. Specimen preparation facility: An original artificial feed can be made, using the powdered Mulberry leaves.
3. Culturing facility: Floor planned for optimal movement, zoned per growth of the silk worms.

Productivity plan:
24 annual harvests due to the aseptic sericulture system. After the production of the aseptic cocoon, silk reeling will be consigned to silk mills in Gunma Prefecture and others, to be sold as raw silk. Furthermore, in the future, they aim for mass-production of high-performance silk that can be utilized not only in clothing but also in various other fields such as food, medicine, cosmetics, etc.

Employment plan:Employment terms/needed number of employees, etc. is presently under consideration. An increase of 100 employees is scheduled by 2019.