July 2016
Everyone's exciting New Silk Road to the World
I would like to develop advanced sericulture industry as a big pillar of Yamaga City
 Developed in Yamaga City, which is the birthplace of Professor Shunpei Nagano, a pioneer of modern silkworm business, sericulture business by Atsumaru Holdings Inc., a large-scale and advanced system that began with the decision of Atsumaru Holdings I am feeling great joy, excitement, and deep appreciation.

 A new sericulture centered on the system of sterile rearing at room temperature is an advanced breeding method that is different from the sericulture industry used to be done by farmers.
 When I first heard from President Toshiro Shimada of Atsumaru Holdings Co., Ltd. two years ago, I strongly felt "I am certainly in the place of Yamaga". Soon afterwards, the staff in charge found out mulberry field and factory site, and I was able to see Shimada's decision in a short period of time.
 This also means that the new sericulture system was a big appeal, that the Yamaga site originally had sericulture history and culture, and also the president of Shimada, the passion of everyone's employees and various people from the edge, I think that things carried very quickly.

 For Yamaga City, we also hope to make Yamaga City a major pillar to advance and develop in advance of this one big project, so far we have proposed a farmland that cultivates mulberry, the convenience and safety of related roads We have secured and transferred the factory construction site.
 From now on, we will continue to establish a mass production system for new silks, mainly based on Atsumaru Yamaga silk, so that not only administrative procedures and personnel support but also related companies (Itochu fashion system co.,ltd. , REBIRTH PROJECT co.,ltd), we have a passionate desire to work with full power.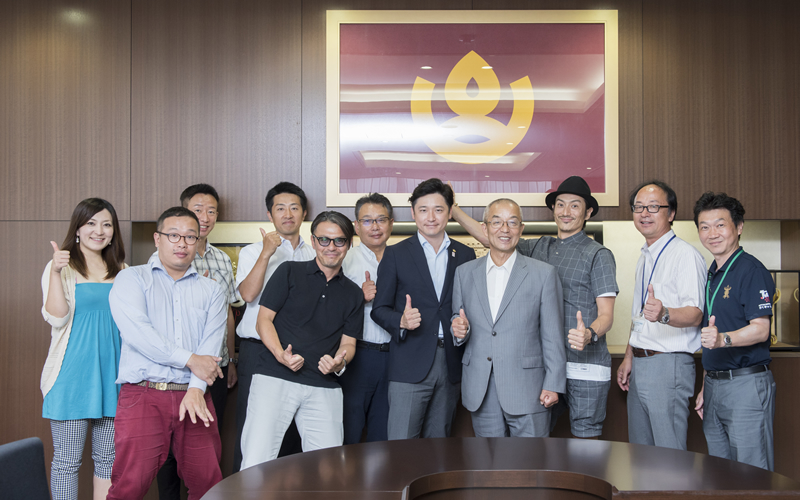 Not only are Atsumaru Yamaga silk, but Kumamoto Prefecture, Itochu fashion system co.,ltd., REBIRTH PROJECT co.,ltd etc. teams are working together
Yamaga City's dream and hope, Expectations for such business
 In Yamaga City, there are numerous hot springs blessed with rich sources, tourism fields such as the Yamaga lantern festival connected with Washi culture are also major industries. I think that this new silk silkworm concept is related to all industries such as sightseeing, agriculture, commerce and industry, and it will be tied together.
 Silk has been demonstrated to be widely used not only for luxury as clothes but also for health foods, cosmetics and advanced medical fields, as well as high quality and high production at this factory Function Silk has great potential and development potential to develop into all sectors.

 Our administration is one of the big jobs to promptly and reliably promote business, but at the same time I think that having citizens have dreams and hopes is also an important role.
 As well as preserving and inheriting the traditional Japanese silkworm industry, it is important for citizens to send "Yamaga Silk" as a Japan brand activated with the latest system toward the whole world as well as domestically I wonder if it will bring exciting dreams and great expectations in my heart.

 "SILK on VALLEY YAMAGA - The new silk sericulture plan" Creating this magnificent project as a regional industry boasted by Yamaga City, flapping from Yamaga City and eventually from Kumamoto Prefecture to the world, a new silk road I sincerely hope to be born as.