July 2016
The silk industry that silk threads connect from zero
Encounter at the right time that pushed this project afterwards
 The reason I decided to start the silk business was that I heard about the existence of a new sericulture in the monthly meeting of Kumamoto Economic Association. Our parent-company conducts publication of recruitment information magazines etc, but we were looking for new business that can be returned from the area a while ago.
The silk business sounded "This is it!"

 I knew that sericulture industry was very active in Kumamoto prefecture once and was exporting raw silk in the world's largest scale as a national policy.
I wonder if I can revive it again. It began to think concretely that it is important to review the fact that it is obsolete in this era. In the recruitment magazine business, we had a relationship with various industries and we thought that it would be against the commercial road to enter business competing with customers, so silk business was attractive in terms of starting from scratch.

 Progress from then on was very quick. When I started thinking about securing the site of Mulberry field, I got an event to accompany the Mayor of Nakashima in Yamaga City, and when I told that I was interested in silk business in a talk with the public, "Please launch in Yamaga" I found the land of Mulberry Garden within a few days. It was after that that I learned about the deep connection between Yamaga and the sericulture industry, that Mr. Shunpei Nagano was from the hometown. It is not red thread, silk thread was connected with Yamaga.

 Also, as a merchant, I should have thought about it, but this project did not have the idea of "making money if I do it". When the project began to proceed, "Where would you like to sell the product, and how much to sell?"
And, as soon as I started thinking about it, I introduced a trading company (ITOCHU) from the Vice Governor of Kumamoto Prefecture and saw the outlook. Everything will meet the right people at the right time from the next one to the next, and the fringe will be connected. This also leads to confidence in this project.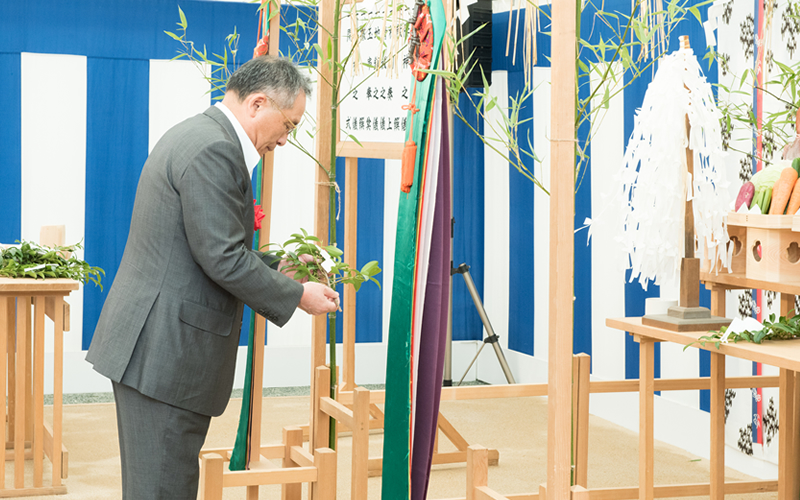 President Shimada praying for the successful construction at the completion ceremony and devoting Tamagushi. Because the Kumamoto earthquake occurred, it was implemented three months behind schedule, and it was decided with a new determination to be a foothold for its recovery.
I am hoping for the creation of jobs in the region and looking forward to establishing a pharmaceutical research institution.
 What is surprised is that no one has ever heard the opposite word from anyone. I accept that we have many expectations. As a goal for the future, first of all, to complete a factory, to ensure regular production regularly, to create a company that can ship monthly stable. As a subsequent development, we also have a research center that is adjacent to the factory and has a concept of making soil that makes use of the silkworm raised in a clean room for pharmaceutical purposes.

 For example, if the form of Yamaga campus of a university institution can be formed, people will be kept in rural areas and new people will be invited.
I strongly feel the possibility of developing as a region called "SILK on VALLEY". As regional employment creation, in addition to employees in Mulberry field where operations begin, we are currently employing 12 new graduates next spring.
If the factory is completed in March next year, the necessary personnel will be visible by the trial run, so we plan to hire from the local there again.

  Since the "SILK on VALLEY" project began, we have many people's cooperation and expectations, thanks to gratitude. Since all of our employees will work hard together, we thank you for your continued guidance and encouragement in the future.